Free DVD for anyone interested in the Combat Sports School Olympic Wrestling Club Programme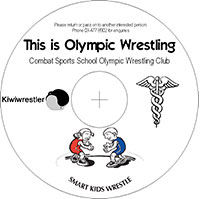 This free DVD is available from the Fight Times shop, 49 Stuart Street, Dunedin, Phone 477 8902. It covers the history of Wrestling from ancient times through to modern, as well as our highly successful Combat Sports School Olympic Wrestling Club. Drop in an pick up a copy today, and when you've finished with it, hand it on to anyone interested in wrestling.
Experience the Benefits
Increase Cardivascular Endurance
Increase Muscle Tone
Deacrease Bodyfat
Increase Mental Toughness
Increase Agility, Speed, and Strength
Increase Hand Eye Coordination
Enhance Athletic Ability for Other Sports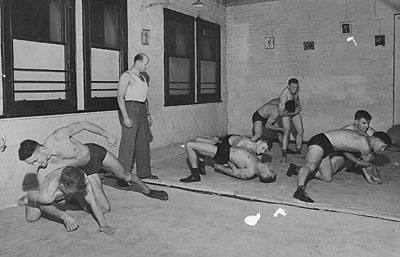 Early days - Harry Baldock oversees a wrestling class
Click here to read about the club history
Training Facility
6 Stuart Street, Dunedin
For more information

Office: 49 Stuart Street, Dunedin
Ph/Fax 03-477 8902
[email protected]
P.O. Box 5579, Dunedin, New Zealand
Wrestling Boots
Fight Times carries stocks and receives regular
shipments of Asics, Adidas, and SMAI wrestling boots.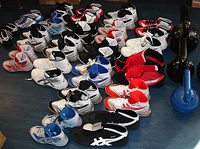 click for for larger image
Ideal for Olypmic Freestyle and Greco-Roman wrestling, as well as submission grappling. Indent ordering essential. We are the sole New Zealand agents for all SMAI martial arts and combat sports lines including all EVA high density bonded foam interlocking mats.